CAPPY & STANLEY: Brothers from Different Mothers via Foster Care.
Both boys were singleton bottle babies, the same age, but rescued from different places.
STANLEY was removed from inside a wall of a business in Dix Hills, while CAPPY was found near death on  a street in Cambria Heights Queens.
They were originally cared for in separate foster homes as lone orphans .
Cat rescuers realize that through fate, singleton baby kittens, especially bottle babies,
were removed from their feline moms & siblings far too young.
They need socialization with other kittens & stern reprimands from Mama Cat so they do not develop behavior problems & become "spoiled brats", to put it bluntly.
They must learn biting & rough play hurts.
So STANLEY & CAPPY were put together with  in foster care, giving each a playmate.
The plan worked well so we'd like to keep the boys together. STANLEY & CAPPY are 2.5 months old & were neutered this week so they will be ready for adoption together by the weekend.
To meet the Boys by appointment at Last Hope in Wantagh,  please first complete & submit a cat adoption application.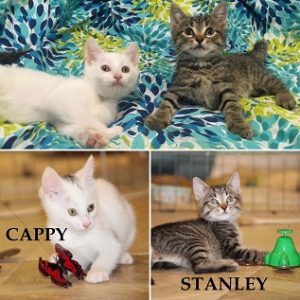 Come visit me at the Adoption Center in Wantagh, New York.