CAPPY & STANLEY: Brothers from Different Mothers via Foster Care.
Both boys were singleton bottle babies, the same age, but rescued from different places.
STANLEY was removed from inside a wall of a business in Dix Hills, while CAPPY was found near death on  a street in Cambria Heights Queens.
They were originally cared for in separate foster homes as lone orphans .
Cat rescuers realize that through fate, singleton baby kittens, especially bottle babies,
were removed from their feline moms & siblings far too young. So STANLEY & CAPPY were put together with  in foster care, giving each a playmate. They have become best friends and must be adopted together.
To meet the Boys by appointment at PetSmart Huntington Station,  please visit our Adoption Center there and fill out an application.  If it is approved, a volunteer will contact you to set up a time to visit with these sweeties.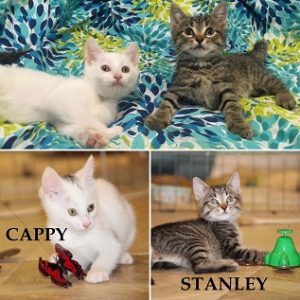 I've found my forever home! Thank you!