CASSIDY is the Little Lady in our "BUTCH & SUNDANCE" Litter of Kittens.
She was trapped in Far Rockaway at 11 weeks old with her brothers.
After foster care, she was separated from the boys.
CASSIDY, this 3.5 month old mini black panther is waiting for you at PETSMART BELLMORE.
She'd like to make your acquaintance so you will decide to take her Home.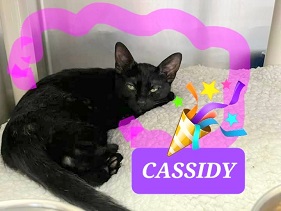 I've found my forever home! Thank you!