ROCKY the "Joey Chestnut" of Dachshunds is back at Last Hope. He is looking for an only dog home. He also put in a few pounds since last featured on Last Hope Inc FB.
ROCKY was living in a multi-dog home, but was such a competitive eater that he kept provoking dog fights over food. It is best that he go to an only dog home
You may recall ROCKY belongs to the quartet of 11 yr old Doxies to move to Last Hope as a " pup package deal" in January after their Mom died & Dad went into an assisted living in Georgia.
When alone , ROCKY is lovable & snuggly. He knows how to climb dog steps to a bed and then cuddle with you under the covers.
ROCKY had a mega-dental under Last Hope's care and 32 teeth, yes 32, teeth extracted.
ROCKY is looking for a Doxie lover to embrace him, and help him slim down gradually.
Meet ROCKY at Last Hope in Wantagh.
**Note: Joey Chestnut is the champion Nathans hot dog competitive eater at Coney Island on July 4 each year.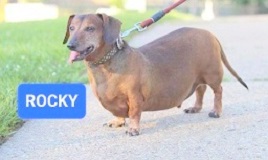 I've found my forever home! Thank you!