CHARLIE is CHARMING.
He's a 3 year old city boy, rescued off the streets of Queens. His freckles on his pink nose offset by his recent ear tip add to his panache.
Charming CHARLIE is outgoing & friendly. He fit in fine with the Last Hope feline fold when he arrived in Wantagh.
CHARLIE had an echo because our vet detected something with his heart. He has concentric thickening in a ventricular wall, and takes a baby aspirin twice a week.
CHARLIE would truly benefit from a doting home.
CHARLIE resides in the first cat condo you see when entering the Cat Center. He is there to greet you.
You can meet CHARLIE without an appointment on Wed-Fri from 12;30 to 6, or Sat & Sun. from 11:00 to 6:00 as long as you are wearing a Face Mask.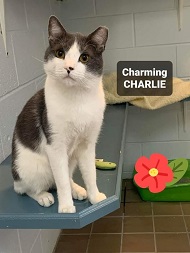 I've found my forever home! Thank you!