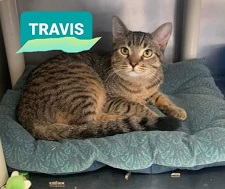 TRAVIS Traveled 18 Hours & Many Miles for this Last Hope Inc FB Opportunity. Please Help His Adoption Wish Come True

TRAVIS is a 7 month old tabbilicious kitten from an overcrowded Georgia shelter. He is a sweet feline fellow ready to nestle into a loving Home ASAP.
YOU can meet TRAVIS at Last Hope in Wantagh without an appointment Wed-Fri from 12:30 to 6 or Sat-Sun 11 to 6 as long as you are wearing a face mask.
I've found my forever home! Thank you!