CHICHI Laments: "Why Doesn't Someone Want to ADOPT Me?"
CHICHI is a sweetheart, and has been at Last Hope since early January.
.
She is yet another deserving dog, a victim in a Georgia cruelty case .Georgia.
Background from her GA shelter:
" CHI CHI , a 1 year old Terrier mix, weighing 24 lbs, , was confiscated by City Animal Control for neglect when she was left chained to a porch with no shelter/food/water.
Her owner moved off. Owner was cited to court, appeared and was dismissed because police officer did not appear.
Owner tried to get her back but could not afford shelter cost.
CHI CHI is super friendly and loves other dogs! Walks well on leash and is pretty much house broken. We walk her daily."
She has been at the GA shelter since late November…probably held up in the court case."
CHICHI deserves the Best Treatment because she has already Endured the Worst.
   CHICHI likes other dogs and cats…
Meet CHICHI by appointment at Last Hope in Wantagh, but first complete and submit a dog adoption application found on the Last Hope website homepage.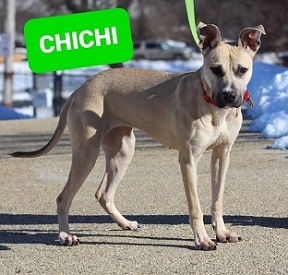 I've found my forever home! Thank you!