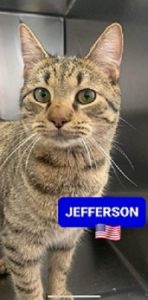 JEFFERSON Declares:
"We hold these truths to be self-evident- that All Cats Deserve a HOME, a LOVING HOME."
As you can see, JEFFERSON is very smart tabby, especially for a kitten who turned 1 year old last month…
Which happens to be the SAME MONTH he arrived at Last Hope on a Georgia rescue transport from a crowded shelter called KITTY UP.
Besides the horse innuendo, wonder if "UP" also means " Travel Up North".
Guess it would be best to ask JEFFERSON, because, after all, he is so Smart.
And Sweet, and Friendly, and Purrsonable.
Meet JEFFERSON at Last Hope in Wantagh, not at Monticello.
I've found my forever home! Thank you!