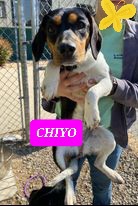 CHIYO, CHIYO!

This petite cutie has a Beagle frame, painted in a Jack Russell Terrier color scheme.
CHIYO is only 1 year old. She was rescued from an overcrowded Kentucky shelter.
She is friendly, outgoing, puppyish & eager to make your acquaintance.
Meet CHIYO at Last Hope in Wantagh any day from 10am to 7pm.
I've found my forever home! Thank you!