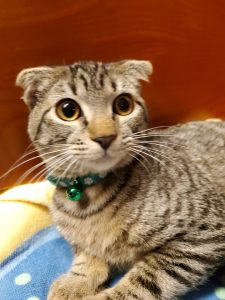 Cutie CLARICE: Scottish Fold mix
CLARICE & 4 littermates were rescued in Elmhurst at 5 weeks old. She is one of two to have Scottish Fold -style ears.
She shows off her charm at Petsmart Bellmore. Now 3.5 months old, CLARICE is ready to " fold off into" someone's arms FOREVER.
Take a sneak peek at Petsmart Bellmore, and then submit a Last Hope cat adoption application to meet CLARICE by appointment.
I've found my forever home! Thank you!