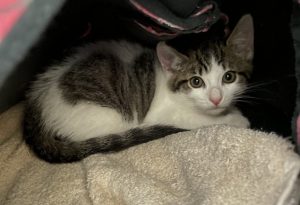 The WHOPPER KITTENS were trapped at 7 weeks old by the Lindenhurst Burger King in busy traffic
There are 4 nuggets in this litter & MURPHY is the silly, sweet tabby.
The WHOPPERS are almost 3 months old & ready for "take out".
Meet a WHOPPER KITTEN from Wed through Sun 12:30 to 6pm without an appointment at Last Hope in Wantagh.
I've found my forever home! Thank you!