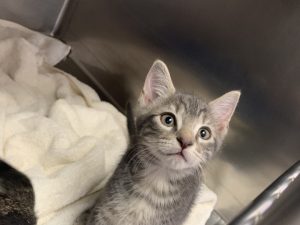 DIEGO is a darling little boy.
Diego & his brothers were rescued in Brentwood when they were about 1 week old along with their mom. They have since been lovingly fostered as a happy family until their neuter.
Now the siblings wait for their homes.
Diego is extremely friendly, social and sweet. He loves to play and get cuddles from any volunteer that passes by his cage.
He is about 2 months old and very excited for the opportunity to have a forever home.
If you are interested in adopting Diego, please fill out an adoption application from the homepage of the website.
I've found my forever home! Thank you!