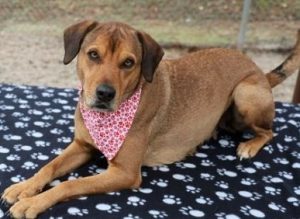 DIXIE is DAZZLING
And so is this portrait of DIXIE painted by Natale Sherman, a 6th grader at Wantagh Middle School.
DIXIE Deserves a Great Home
Our Hound/Lab gal is only 1 year old but if you look closely, it appears she's already whelped a litter.
She is 44 lbs, full grown & hails from a crowded Georgia shelter.
DIXIE knows SIT, PAW & DOWN. She's timid at first around strangers. She is not fond of other dogs. And is more suitable with kids over 10 yr old because of her initial wariness.
To meet DIXIE by appointment at Last Hope in Wantagh, please complete and submit a dog adoption application found on the Last Hope website homepage.
By the way, the gorgeous DIXIE portrait becomes yours if you adopt Dazzling DIXIE.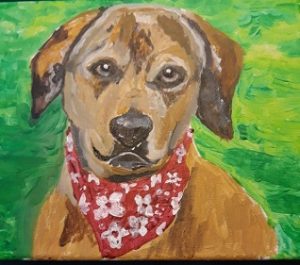 I've found my forever home! Thank you!