HELLO, DOLLY!
DOLLY  recently came to Last Hope as a pup passenger on a Kentucky shelter transport.
She is listed as a 5 year old Beagle/ Yorkie. A blend to dispute, because of her full Beagle size.
She looks more like a "Beagle with a hairdo" which could be a mixture of Beagle with any relatively, small, coated breed such as Cocker or Sheltie.
DOLLY is adorable, but initially timid. Last Hope volunteers are looking forward to making more relaxed and comfortable in her new setting.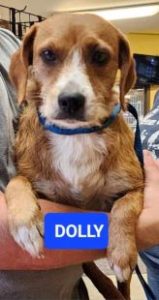 I've found my forever home! Thank you!