"Can You Feel the LOVE Tonight?" asks ELTON JOHN, a lyrical Last Hope kitten.
ELTON JOHN is only 3.5 months old. He & several other kittens were rescued from outside an assisted living in East Meadow. ELTON JOHN was the only one heavy enough to neutered so far. You can go to Last Hope Cat Center in PETCO Wantagh to hear ELTON JOHN sing solo.
Request "Your Song", and purrhaps it will be ELTON JOHN's farewell concert because his "mewsic" will convince you to take him HOME to stay.
If you are interested in learning more about him, please send us an email to adoptions@lasthopeanimalrescue.org or fill out an application from our website.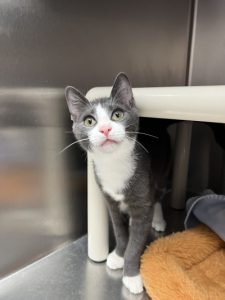 I've found my forever home! Thank you!