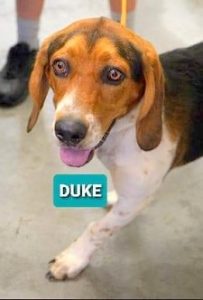 It Was DUKE's DAY OUT
Several kind Last Hope volunteers sprang DUKE from our shelter and gave him a fun day of R & R. This patient pup has been with us since JULY and needed to stretch his long Houndy legs.
One stop was Petco where DUKE demonstrated his Southern gentleman manners. He behaved quite well around kids & other dogs.
DUKE is a 2-3 yr old tall Beagle from Kentucky. He is more Harrier size which measures between 15 in Beagle & Coonhound.
DUKE deserves a Home of his Own.
Meet DUKE at Last Hope in Wantagh any day between 10am & 7pm without an appointment, as long as you are wearing a face mask.
Thank U to the lovely ladies who chaperoned DUKE on his Staycation from Last Hope.
I've found my forever home! Thank you!