Darling DUSTY with his DAZZLING eyes- one Blue; one in a Hazel Hue.
We're Making a  Fuss 'Til DUSTY Finds a Home.
He was Rescued from the Middle of a Busy Georgia Highway-
Now Adoptable at Last Hope.
He's a handsome Husky/Shepherd with hazel eyes, about 2 years old.
DUSTY is 53 pounds,  likes other dogs. He doesn't mind when cats are around him.
He seeking a home where he won't be left in the middle of a busy road,
but where he will be a beloved member of the family.
To meet DUSTY by appointment at Last Hope in Wantagh, please complete and submit a dog adoption application found on the Last Hope website homepage.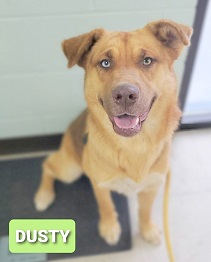 I've found my forever home! Thank you!