DYLAN says: "Last Hope Gave Me Shelter From My Storm, and Now I'm Knock, Knock, Knocking on Someone's Door to Take Me HOME. "
DYLAN is a Special Needs Kitten-a Wonderful, Special Needs Kitten so Please excuse DYLAN's botched-up borrow of his Nobel Laureate Namesake's lyrics to ask for a Special Home.
DYLAN, now 10 months old, came to Last Hope in January on a Georgia rescue transport. We were aware he probably had congenital megacolon & stood no chance of being adopted or treated there because the Georgia shelters are overwhelmed with cat/kitten intake, and the surgery, if needed, was quite costly.
When cats have megacolon, their colon is distended and constipation becomes a serious problem which affects a cat's comfort & life span.
DYLAN, a delightful fellow with fancy ear tufts, became a volunteer favorite while he received treatment & diagnostics here via Last Hope.
Over a month ago, DYLAN had complex surgery by a Long Island veterinary specialist where a portion of his colon was removed & his organs were reattached.
DYLAN has been monitored throughout his recovery and is doing quite well. He will most likely need to remain on a diet of Rx id canned food the rest of his life.
If you are interested in embracing delightful DYLAN as a feline family member, please complete and submit a cat adoption application found on the Last Hope website.
Our cat coordinator Doreen will be talking to you too about his care.
We know DYLAN's Adopter is "Blowin' the Wind", and will find find our Delightful Fellow, DYLAN.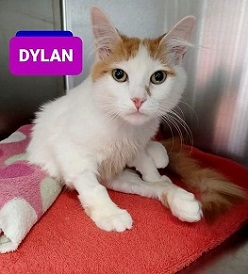 I've found my forever home! Thank you!