Caution: CHRISTINE's Story May Make YOU Cry.
CHRISTINE a darling tabbico with classic markings was adopted from Last Hope 8 years ago.
Recently, she was returned by a family member who merely stated "he no longer had time for her".
She is sweet but bewildered in our biggest cage. Why is she there?
Yes, adopted 8 years ago. Last Hope will be sending her for a much needed dental.
She needs someone who will embrace her FOREVER.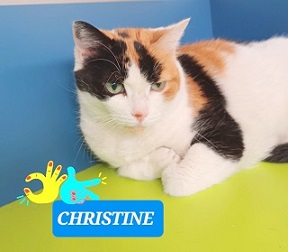 I've found my forever home! Thank you!