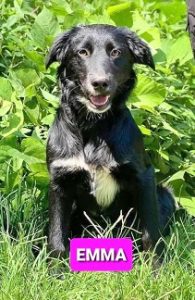 EXCELLENT! EMMA Has ARRIVED….
…On the Midnight Rescue Train from Georgia.
Three Attempts is the Charm..
And EMMA is quite CHARMING.
She is a Retriever/ Border Collie mix, about 1 year old, who loves kids & other dogs.
If YOU are a fan of active, smart breeds, YOU may LOVE EMMA.
To meet EMMA by appointment at Last Hope in Wantagh, please complete and submit a dog adoption application found on the Last Hope website homepage.
I've found my forever home! Thank you!