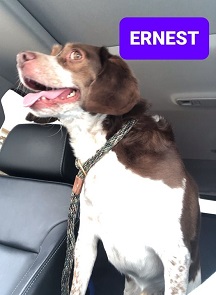 ERNEST showed up at Babylon Town Shelter this week. He & his former owner came upon hard times. ERNEST is part of the Last Hope extended Family, but his current caretaker mustn't have known to contact us.
Thankfully, Babylon Shelter found a microchip that traced to Last Hope, and we could quickly take him back.
ERNEST first came to Last Hope in 2017 as a young Kentucky discarded Beagle mix. We just learned his owner went into a nursing home, and her son had been taking care of ERNEST the last year or so.
When he showed up at the shelter to surrender ERNEST, the man was quite distraught & said he could no longer keep him.
ERNEST is about 8 years old , chubby & so sweet.
Please come to Last Hope in Wantagh to see for yourself….and perhaps -ADOPT him.
I've found my forever home! Thank you!