FARLEY: FAR from his Old Kentucky Home where he was Discarded; but, hopefully, NEAR to a New, NY Home where he will be Adored.
FARLEY is a sweet male Beagle mix with Lab length ears. He is 3 years old and smaller than he looks here- only 28 pounds.
FARLEY would love to meet YOU up close & personal at Last Hope Dog Center in Wantagh.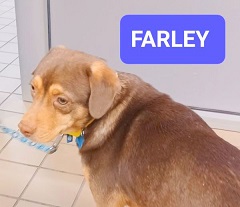 I've found my forever home! Thank you!