FELIX is FUN.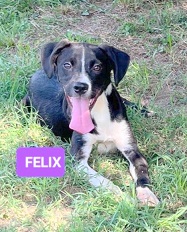 He's a 6 month old Lab mix painted in a Border Collie color pattern. He weighs 28 pounds & is quite playful.
FELIX & a dog buddy were found on the side of a road in Georgia. They were kenneled together at the shelter, but FELIX's buddy had already been adopted.
Now it will be FELIX 's turn for
adoption from Last Hope.
Take a look at the video below showing FELIX playing with another dog in Georgia.
Meet fun FELIX today at Last Hope Dog Center in Wantagh
I've found my forever home! Thank you!