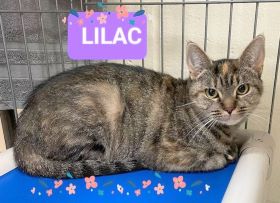 Do You Love LILAC?
You really should.
As a young tabbico, she is 3 colors but, of course, none of these 3 colors are lilac.
This beauty is 9 months old. She was trapped at 8 months old in Roosevelt, and turned out to be sweet & friendly…which made her trapper Renee happy, Last Hope happy & will ultimately make LILAC very
happy when she is adopted & settled in a Home of her Own.
I've found my forever home! Thank you!