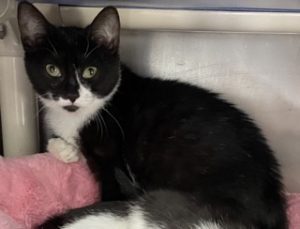 Meet GARTER: Garter was rescued in Islip at 5 months old with her brother Bow Tie. Bow Tie has been adopted and now Garter waits all by her lonesome for a forever home. She is about 6 months old, calm, sweet and will make a nice companion. Purrhaps she will enlighten & entrance YOU.
If you are interested in learning more about her, please send us an email to lasthopeadoptions@gmail.com or fill out an application from our website.
I've found my forever home! Thank you!