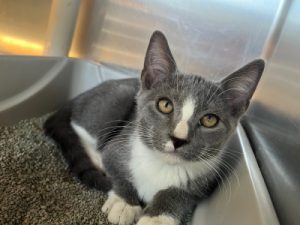 HAN is the Best Looking Grey Tuxedo Kitten "HANS Down".
This 2.5 month old cutie was found in a Farmingdale yard when they were only 6 weeks old. They were fostered by Kathy K, and are now enjoying a temporary stay at Last Hope in Wantagh until HANS & his kin find loving homes.
HAN would love to meet you so he can win you over with his good looks & friendly purrsonality.
If you are interested in learning more about him, please send us an email to lasthopeadoptions@gmail.com or fill out an application from our website.
I've found my forever home! Thank you!