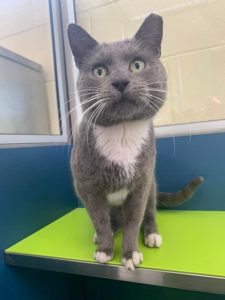 Introducing GARY:
Gary is a new man on the block, and we cannot wait to find him his forever home. Gary is 4 years old and finds himself at Last Hope after being rescued in Brentwood. He came up to someone's door looking for safety and love and he went to the right place. No owner was found…was he dumped? We may never know. We are grateful he found his way to us because boy is he a friendly man. Gary will talk to you until you come to give him some attention. He loves to be pet and will give you his undivided attention as long as you are by him. Gary is FIV+ but we hope that does not deter you from adopting Gary. Gary is a gem and deserves a safe, happy life filled with lots of love and deep, meaningful conversations.
So if you are interested in learning more about Gary, please send us an email to lasthopeadoptions@gmail.com or fill out an application from our website.
I've found my forever home! Thank you!