GEMMA is a GEM of a Little Lab.
This 6 month old tri-pod arrived at Last Hope on a Kentucky rescue transport.
She had a badly broken rear leg that needed to be amputated . You can get a glimpse of her stump in the photo.
GEMMA weighs 35 lbs, is already spayed . She won't get much bigger. Her compact size will ease her mobility.
GEMMA is a happy soul. She runs & romps & seems oblivious to the fact she is missing her hind leg.
But she is not oblivious to the fact that she is missing a home & family.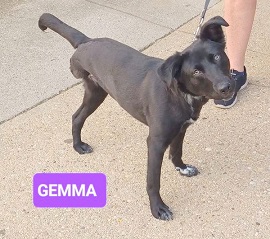 I've found my forever home! Thank you!