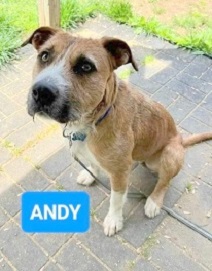 An APPEAL for ANDY
ANDY is a young, adorable "ScruffEnoughoGus" Terrier mix. He looks like he stepped off the set of a Disney
movie, cast as a bigger Benji.
He is about 2 years old and wants a human best buddy. He is such a sweetheart! He Knows basic commands. Sit, Down, Come !
We are working on Paw and some fun commands with him.
He is heartworm positive. Diagnosed after he arrived at Last Hope from a Southern shelter. Which is possible because it takes time for the infection transmitted by mosquitoes to be detected.
ANDY needs a Foster-to-Adopt home while he undergoes his heartworm treatment.
Last Hope will monitor & pay for his heartworm protocol..He needs a quiet setting during his injections & recovery.
His adoption is finalized at the end of the process.
Won't you consider opening your heart, home and helping Andy live happily ever after from now on.
Come visit me at the Dog Adoption Center.
[contact-form 3 "Dog Adopt"]