"Hey there, GEORGY GIRL-
Swinging down the street so fancy-free
Nobody you meet, could ever see the loneliness there inside you"
Yes, GEORGY GIRL is lonely. This teeny kitten was rescued on Christmas Eve when found at 6 weeks old by herself in Garden City.
GEORGY GIRL is presently our only kitten at Petco Syosset, and she doesn't understand she has had fewer visitors stopping by her cage this weekend because we had a blizzard.
GEORGY GIRL craves company. She wants to belong to a person…or to a family . GEORGY GIRL is a tad over 2 months old.
She can "swing down the street fancy-free" by sleigh, snowmobile or dog sled and move into a home with kind adopters. Look at that adorable face with a smudge of snow on her chin.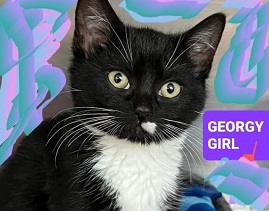 I've found my forever home! Thank you!