DON'T HESITATE; ADOPT KATE
KATE is 9 month old small Shepherd/ Lab puppy from Georgia's KITTY UP Shelter. She weighs 25 pounds and won't grow a lot bigger.
Kissable KATE is outgoing and friendly. She wears 4 white socks.
Please don't tell KATE she isn't allowed on the lobby bench because she definitely looks cute posing there.
You can meet KATE at Last Hope in Wantagh but first complete and submit a dog adoption application found on the Last Hope website homepage.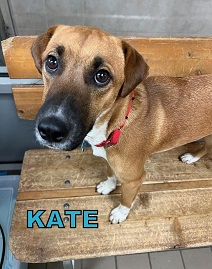 I've found my forever home! Thank you!