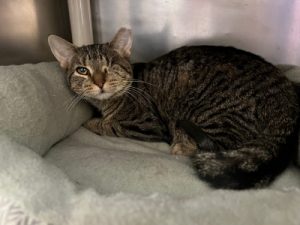 ADOPT GERBERA DAISY AT LAST HOPE!! Thank you Last Hope for bringing her into your adoption program. If you remember, DAISY was the young cat that decided she didn't want to live outdoors, she stood her ground in the carrier and refused to do the R part of TNR. DAISY is 7 months old, and her left eye had been previously removed. She has an ear tip too, but DAISY made it known she doesn't want to live as a feral. SHE WANTS TO BE SOMEONE's PET.
If you are interested in learning more about her, please send us an email to lasthopeadoptions@gmail.com or fill out an application from our website.
Come visit me at the Adoption Center in Wantagh, New York.
[contact-form-7 id="18343" title="mfmchugh"]