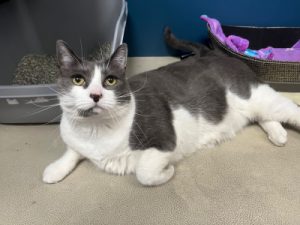 Wendy is a big girl with a lot of love to give. Wendy is 4 years old and recently found her way back to Last Hope after her owner became very ill and could not care for her. Wendy is still a bit confused about why she is back with us. She loves to talk and immediately seeks the attention of anyone walking by. She loves to lick you and will give you a little love bite when she has had enough. Wendy would do very well with a cat-savvy adopter who can play with her, talk to her, and give her space when she wants. Wendy has been through a lot and deserves a loving owner to show her everything will be okay.
If you are interested in learning more about her, please send us an email to lasthopeadoptions@gmail.com or fill out an application from our website.
I've found my forever home! Thank you!