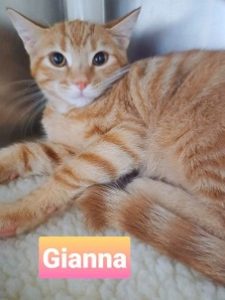 GIANNA is Late telling YOU about  Ginger Cat Appreciation Day..(actually late because her Last Hope FB ventriloquist was distracted by other rescue news.)
GIANNA is 4 months old, a gorgeous ginger & wants you to know about 30% of ginger cats are female like her.
She was trapped by John Debacker in Bay Shore at 12 weeks . With patient fostering by Kathy B., GIANNA has made great socialization strides.
To meet GIANNA by appointment at Last Hope in Wantagh, please complete and submit a cat adoption application found on the Last Hope website homepage.
I've found my forever home! Thank you!