Poor Miss SOCKS! What a sad life thus far!
SOCKS is a petite under 2 year old Shepherd/Husky, no more 30 lbs. who endured a lot when with her original Georgia owners.
Some time ago she had a litter, as only a pup herself. The people turned her puppies into their crowded local shelter. Staff there seized the pups' father (most likely for neglect).
After that, the owners were evicted & turned SOCKS into the shelter too.
Her most fortunate twist of fate was the Georgia shelter asking Last Hope to take her.
SOCKS arrives TODAY.
PLEASE Let Her Best Life Begin.
On weekends, you don't need an appointment to meet adoptable dogs.
But to be adoption -consideration-safe,
please complete and submit a dog adoption application found on the Last Hope website homepage.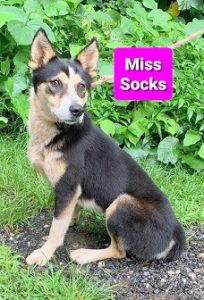 I've found my forever home! Thank you!