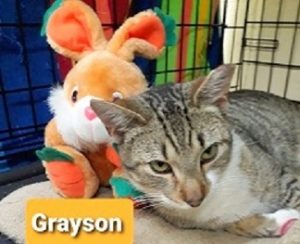 GRAYSON Is GREAT
This handsome tabby boy is a rescue from a Georgia shelter. He arrived last week, and made his Easter Saturday debut on Last Hope Inc. FB.
GRAYSON turned a year old last month, and likes other cats. He's already asked the EB for a loving home instead of decorated candy eggs.
And he is hoping the EB comes through for him.
YOU can come through for GRAYSON too.. To meet him by appointment at Last Hope in Wantagh, please complete and submit a cat adoption application found on the Last Hope website homepage.
I've found my forever home! Thank you!