Happy HANK is a cutie… He and his two sisters were rescued midsummer in Hicksville. They were only 4.5 weeks old…little babies. He was cared for lovingly in a foster home, and neutered at our big SPAY/NEUTER Clinic on Sept. 20th.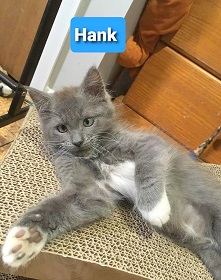 Hank was born on 7/7/20, and is ready to hang out at YOUR house for the next 20 years or so.
To meet HANK by appointment at Last Hope in Wantagh, please complete & submit a cat adoption application which you can find on the Last Hope website homepage.
I've found my forever home! Thank you!