Let's Make HAPPY Happier by Finding this Dapper Beagle Boy a FOREVER HOME.
This adorable Beagle from Kentucky looks like he is wearing a black jacket, but this is his coloring and how his fancy ticking pattern seems as if it was painted on him with a brush & ruler.
HAPPY is supposed to be 9 years old- hard to believe, because he prances with a happy gait.
HAPPY is 29 lbs, and waiting to meet YOU at Last Hope in Wantagh.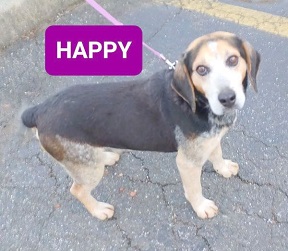 I've found my forever home! Thank you!