SAM is Super. As Dr Seuss would write about this pup: " SAM, I am …Smart & Sweet.
Why haven't I been adopted yet?."
SAM Is Such a Smart Puppy
He is a 6 month old cutie with a velvety coat. SAM was rescued from an overcrowded Kentucky shelter.
SAM arrived at Last Hope last Saturday. Despite his long rescue transport ride to Long Island, SAM aced a training session from our volunteers.
He learned how to SIT on command in less than 10 minutes.
SAM possesses tons of Pup Potential.
He could become a great Family Pet.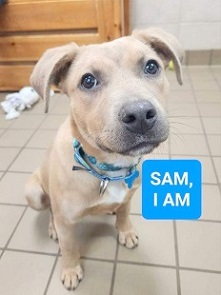 I've found my forever home! Thank you!