HEDWIG would like to HEAD Your Way, and Stay with YOU for the next 20 years or so.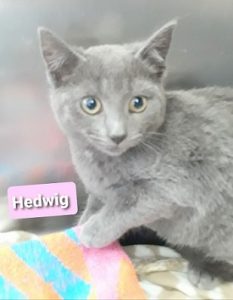 She is a 2.5 month old Russian Blue mix, new to the Last Hope kitten crew. She & her littermates joined us last Sunday after being trapped in Mineola at 10 weeks old and joined the gang for their Big Snips at our Kitten Clinic.
HEDWIG is a little bit shy, but if you place her on her back and give her a full body meow- massage , she turns to Russian Blue Jello in your hands.
To meet HEDWIG by appointment at Last Hope in Wantagh, please complete and submit a cat adoption application found on the Last Hope website homepage.
I've found my forever home! Thank you!