WOW! It's WESTON…
He's a peewee Basset, only 22 pounds, with a full-size Basset bay & bark.
He has adult teeth but he acts puppyish.
WESTON was picked up as a stray by a Kentucky shelter, so he doesn't come to Last Hope with a bio. We did see he is food-motivated.
WESTON is ideal for Basset-lovers who want the real deal in a smaller pup package.
To meet WESTON by appointment at Last Hope in Wantagh, please complete and submit a dog adoption application found on the Last Hope website homepage.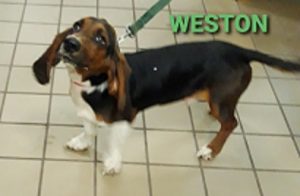 I've found my forever home! Thank you!