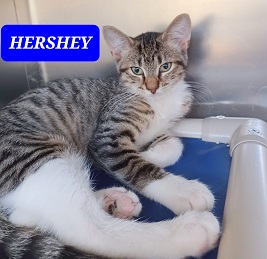 HERSHEY has already survived a harrowing encounter.. This handsome tabby was one of 4 kittens rescued a month ago from a Freeport house about to be demolished.
Thankfully, they were found in the nick of time.
HERSHEY is a friendly 4.5 month old fellow.
He looks like Big Foot in this photo, but that's just the angle.
HERSHEY, sweet as his name, is waiting patiently for someone who will adore him, and give him a safe & secure Forever Home.
Meet HERSHEY at Last Hope Cat Adoption Center in Wantagh.
I've found my forever home! Thank you!