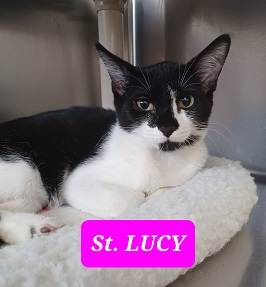 St. LUCY is the last of her litter. The other "saint" kitties discovered on the grounds of a Woodbury church have been adopted.
These babies were left as helpless orphans after the Mama died, and then trapped by volunteer Cathy. She also fostered these babies until they were ready for adoption.
St. LUCIE was the most timid but has made great progress with her socialization .
This pretty smudge face is waiting for her special someone at the Last Hope Cat Center.
So nice if that special someone arrives soon.
I've found my forever home! Thank you!