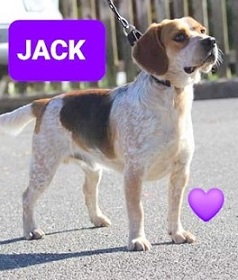 JACK has a KNACK for Making Friends & Influencing People to LOVE Him.
He's a young, freckled Beagle from a Beagle-crowded Kentucky Shelter.
JACK is our current major domo dog greeting visitors & volunteers at Last Hope…
Now he needs a Home where he can adore his family and welcome new people into his life every single day.
You can meet JACK at Last Hope in Wantagh without an appointment from 10am to 7pm each day as long as you are wearing a face mask.
I've found my forever home! Thank you!