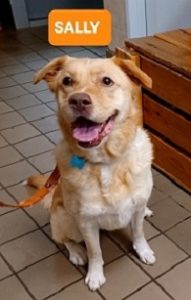 SALLY Needs Somebody to LOVE
She is a dear 5 yr old Golden Retriever mix, 5 year old, who came to Last Hope from a Georgia shelter.  She would be best with kids 10 & over. And also would be happier as the only dog because she wants lots of the attention.
SALLY (aka GOLDIE HAWN) arrived with severely irritated allergies on her face, around her eyes & in her ears. So bad, she was actually bleeding around her eyes.
Our vet put her on meds including ear & eye drops, which are already helping a lot. She has a little more healing to do.
Wouldn't it be wonderful if this neglected dog could be pampered in a home while she continues healing? This way she will feel physically better & also experience real love for probably the first time in her life.
On weekends, you can meet our dogs inside Last Hope without an additional as long as you are wearing a face mask.
I've found my forever home! Thank you!