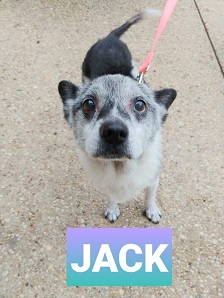 JACK-a Super Senior with a Sad Story.
He came to Last Hope from Habersham County Shelter in Georgia because his tale of woe really touched us. He is about 12 and was previously adopted from there years before.
From Madi at Habersham:
"And his story-
He was actually picked up as a stray recently. When he came in JACK was eaten up with fleas and had a pretty yucky skin condition.
We gave him a Bravecto. And one of my staff members took him home to his kennels. While it's still a "shelter environment "it's out of all the loud hustle and bustle and germs and the seniors seem to do better there.
JACK looks great now compared to his elephant skin he had before just weeks ago. We keep him on canned food since his teeth are so worn at least the few he has left.
I' m pretty sure his owner passed away. When I looked back through the piles of papers of the gentleman that had adopted him, the man was already older.
The numbers on the microchip were disconnected, no Email was listed, and the address that we had on file is a vacant home."
JACK is a lovable soul who needs a cushy place to rest his weary bones.
I've found my forever home! Thank you!