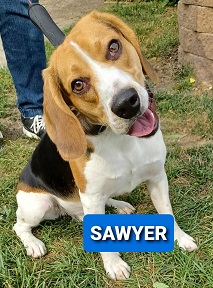 Meet SAWYER our Mark Twain Beagle
SAWYER is.a slice of Americana.. A young, silly Beagle just raring to go. He could have been the leading canine character in one of Twain's books.
He's already had one adventure that we know of but he's keeping mum on the details.
SAWYER came to Last Hope from Brookhaven Town Shelter. He's a 1 year old Beagle found as a stray in East Setauket. He remained unclaimed.
SAWYER is playful with a plethora of energy & enthusiasm. He will do best with an owner who can teach him the basics – like leash walking & commands…and an owner who will help to script SAWYER's happily ever after as a well-trained but still adventurous Beagle companion.
To meet SAWYER by appointment at Last Hope in Wantagh, please complete and submit a dog adoption application found on the Last Hope website homepage.
I've found my forever home! Thank you!