JACKIE is Jovial & Lots of Fun.
She will turn her adopter into a Jolly Soul.
JACKIE, her 4 kitten kin & Mama cat were rescued from an industrial area near the old & now demolished Babylon Animal Shelter.
They were lovingly fostered., adopted but JACKIE & her brother were recently returned because of family allergies.
JACKIE & MARCO are not at all perturbed. They continue to play with each other & and seek out volunteers & visitors to enchant & adore..
Meet them in a big cage at Last Hope in Wantagh.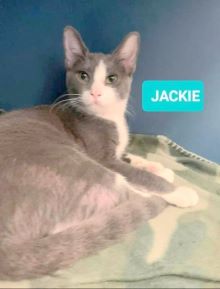 I've found my forever home! Thank you!