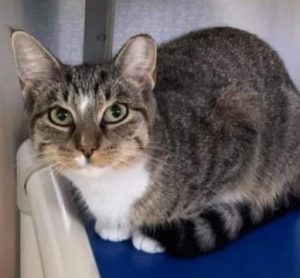 Time to Explain about JANE.
There's nothing "Plain Jane" about this darling tabby kitten.
She was born into a colony with 8 cats fed by a caring Westbury lady.
As JANE grew to be an 8 months old kitten, the lady could pet & pick JANE up each day. She was extremely sweet.
The lady made arrangements for John Debacker to trap & TNR all 8.
Two were our tiny tabbicos-KYLE & ERIKA- now at Petco Syosset. They entered the Last Hope Cat Adoption program in an eye blink because they were so young & to coin a term- "socializable".
The kind lady pleaded for JANE to join our Adoption Program too because she is so Adoptable. Her plea was answered with a YES.
Now for the next step. JANE is at Last Hope in Wantagh, she needs & deserves a FOREVER HOME.
So if you are interested in learning more about her, please send us an email to lasthopeadoptions@gmail.com or fill out an application from our website.
I've found my forever home! Thank you!