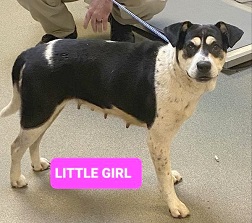 LITTLE GIRL is Lovely, but Actually Not Little. She is 45 lbs. This 3 year old, calm Heinz 57 mix arrived yesterday from a crowded Georgia shelter where they were keeping her in the puppy room for lack of space.
LITTLE GIRL is resourceful. She needed more room to sleep comfortably so at times she would jump over the fence to snooze, curled up on the blankets there.
She looks as if she has had litters but happily she was spayed before her transport north.
LITTLE GIRL is dog friendly. Gee, she deserves to curl up comfortably on blankets, or better a bed, at YOUR House & stay for the next 15 yrs or so.
To meet LITTLE GIRL by appointment at Last Hope in Wantagh, please complete and submit a dog adoption application found on the Last Hope website homepage.
Come visit me at the Dog Adoption Center.
[contact-form 3 "Dog Adopt"]