Our "Peanut Butter" Brother JIF is ready to venture into the adoptable kitten category.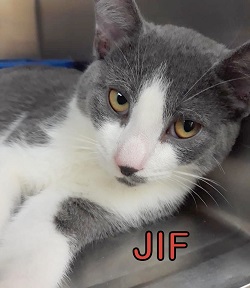 JIF and his brother SKIPPY are from a Babylon Village caretaker who brought a pregnant cat into his home to raise her babies under his care.
The boys are 6 months old, super-socialized, non-stop purring machines. They lived with a friendly Chihuahua the man saved after someone's house fire…so they really like small dogs.
JIF is a great choice if you are looking for an affectionate kitten who will stick by you.  This "Peanut Butter" kitten will be purrfect for YOU.
To meet JIF by appointment at Last Hope in Wantagh, please complete and submit a cat adoption application found on the Last Hope website homepage.
(Note: Last Hope will be spaying their Mom who is staying with the caretaker. )
I've found my forever home! Thank you!